ICL Supporters Mid-term Meeting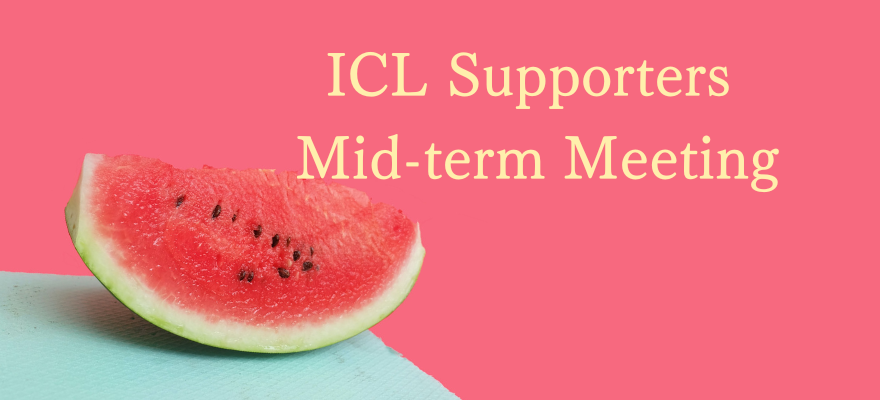 Hello everybody. My name is Keitaro Yoneyama. I am part of the 2022 academic year's ICL support staff. My hobby is music. As I write this, I am listening to Beethoven's 3rd symphony, "Eroica." If you know of any good music, whether it's J-pop, rock, or EDM, please let me know.
 We are entering the end of the semester, but how is everyone? First-year students in particular may have felt nervous at the beginning, but have you adjusted to university life? If you have any problems with intercultural collaborative learning (ICL) classes, please feel free to talk to us anytime.
Here is our Twitter link.
 Now, I would like to tell you about our midterm meeting, which was held on June 8.
 Meeting Details
Information on ICL support staff duties (activities, successes, and issues, from April to present)
Using SNS (activity report, future issues, etc.)
Preparation of ICL documentation (reports, confirmation of future writers)
Report on the Study Abroad Fair
ICL support staff planning (outline and staff recruitment)
 Looking back on our activities in general, we did not have enough communication with students who are taking online classes. It will be necessary to actively include them in our communication network hereafter. Another issue that was raised is that ICL classes were often composed mostly of Japanese students, so in some classes there was little exchange with international students. A way to remedy this might be to think about better methods of advertising ICL.
 Regarding SNS, we tried posting everyday, but it was hard to find topics to post about. One proposal was to try posting authentic comments from the student.
 The Study Abroad Fair provides information for students interested in studying abroad and international exchange. Overall, participants were highly satisfied with it, and we were able to tell them about ICL classes, increasing their interest in taking them. Some problems were that the time was too short, and we need to improve the student volunteer recruitment methods. I look forward to seeing how the Study Abroad Fair evolves in the future.
 The ICL support staff is currently planning an activity for both high school and university students during the summer vacation. I have no idea how it will turn out, but I think it will be an enriching and fun event.
Conclusion
Beethoven's 3rd is ending just as I finish writing this. It is a great symphony.
I started working on the ICL support staff this spring, after an acquaintance introduced me. I still have a lot to learn and many anxieties. However, thanks to the kindness of the other staff members, and the teachers and students in the classes where I worked, I enjoyed every day. In the beginning, I wasn't sure if I could do this job (even know, I would not say I am great at it), but it is better to regret something you have done than something you have not done.
I learned many things from ICL classes. Until a year and a half ago, I experienced ICL classes as a student, but now as a member of the support staff I'm learning many new things. Let us keep learning together.
Thank you for your time and consideration.
Author: Keitaro Yoneyama