Class Reports
Now Accepting Applications for ICL Courses 2023 Fall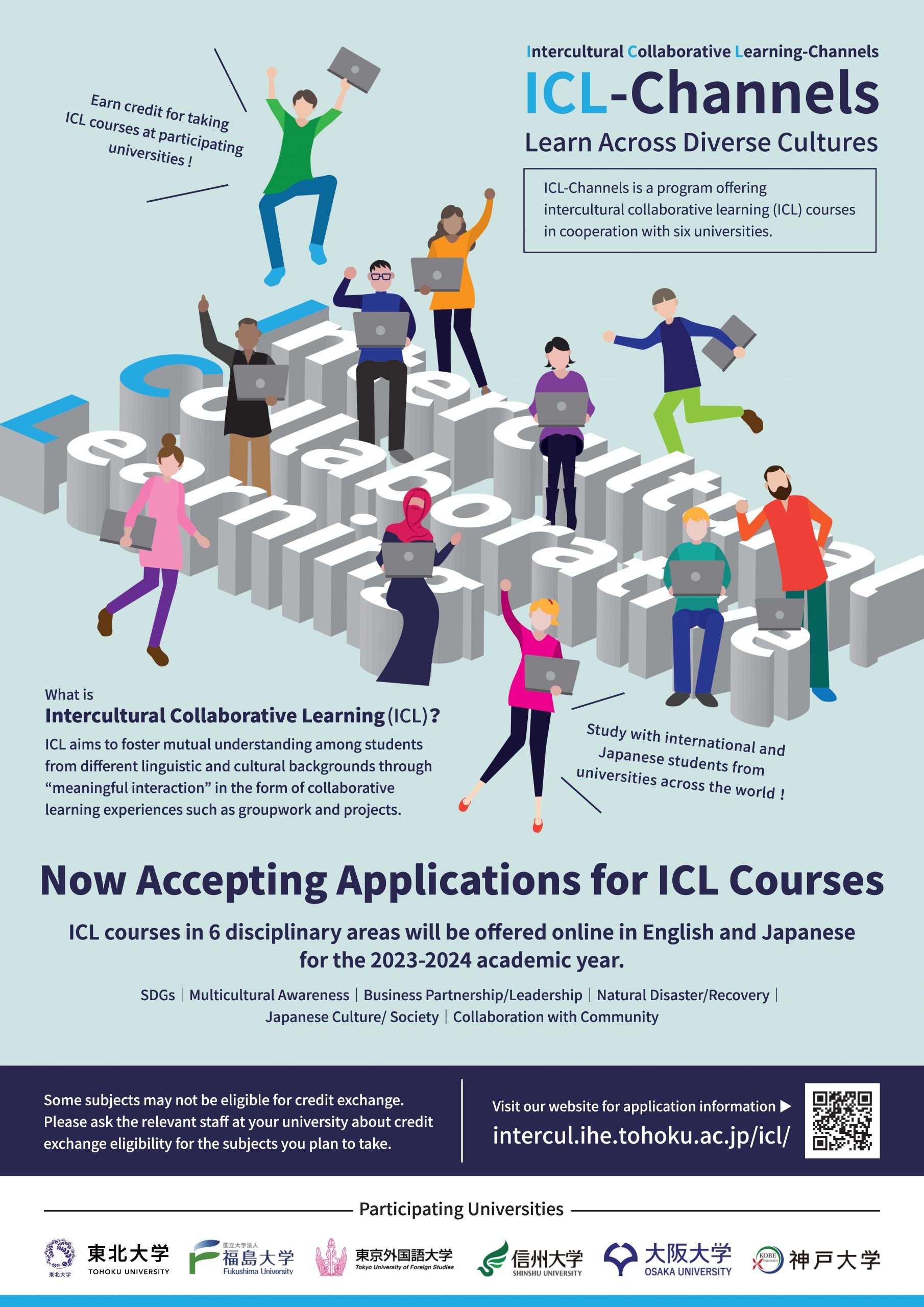 Deadline:1st September Friday, 2023(noon)
TOP GLOBAL UNIVERSITY PROJECT
"Acceleration of Internationalization at Home
through the Development of an Intercultural Collaborative Learning Network"
2023 Intercultural Collaborative Learning (ICL)ICL Student Application Guide

About the ICL Project
The six universities of the ICL Consortium (Tohoku University, Fukushima University, Tokyo University of Foreign Studies, Shinshu University, Osaka University, and Kobe University), supported by the Japan Forum for Internationalization of Universities, began "Accelerating Internationalization in University Education and Stimulating Global Expansion via Intercultural Collaborative Learning Networks (ICL Project)" in AY 2021. This project aims to increase sharing, advancement, and international mobility together with foreign and domestic organizations through Intercultural Collaborative Learning (ICL) that incorporates cooperative classes/activities for international and domestic students while expanding in Japan and abroad.
This project enables us to offer a credit exchange for ICL classes offered by the ICL Consortium in six interdisciplinary fields. Students at the above universities can take ICL classes in areas approved by their home universities at other universities. Students interested in taking classes through the credit exchange should follow the application instructions in this guide.
Credit exchange might not be approved depending on the class. Please ask your home university whether the credit exchange can be approved.
Learning Attainment Goals
Through classes eligible for the credit exchange, we hope to diversify the students' international learning experiences, help them form and expand student networks beyond country, region, and university, and foster, with an emphasis on international awareness, a new generation of global talent to find solutions to worldwide problems. The class content will organically incorporate meaningful interaction among students of different linguistic and cultural backgrounds to increase the quality of their learning and help them achieve learning attainment goals in each interdisciplinary field.
Interdisciplinary Field

SDGs
Classes will promote understanding of Sustainable Development Goals and increase the students' ability to propose solutions to common worldwide issues from diverse perspectives as global citizens.
Earthquakes & Rebuilding
Students will study Japan's harm/disaster mitigation/prevention efforts and the restoration process following the Hanshin-Awaji and Great East Japan Earthquakes, and develop their ability to disseminate the results internationally.
Intercultural
Understanding
Students will acquire new values and creativity while building understanding/acceptance of people from different linguistic and cultural backgrounds, and critically rethinking their own cultures.
Industrial-academic Cooperation & Leadership
Students will collaborate in a global environment among people who hold different values and acquire the communication skills, initiative, and leadership needed to actively discover and solve problems.
Japanese
Culture & Society
Students will become well-versed in Japanese culture, history, customs, and social conditions, and develop the ability to analyze/debate Japan's strengths and problems from multiple perspectives.
Regional
Communities & Cooperation
Students will gain an understanding of the strengths and problems of regional communities and the people who live there, and acquire the proposal skills and initiative to develop them from a global perspective.
ICL Classes (classes eligible for credit exchange)
ICL classes (Japanese or English) in six interdisciplinary fields will be offered in the 2023 school year. For a list of class subjects, please see "2023 Academic Year ICL Classes." Please see the ICL website for class details and syllabuses. Class enrollment limits and eligible school years (semesters) vary depending on the class.
Application Eligibility
Undergraduate students who, for the duration of the classes, will be enrolled at Tohoku University, Fukushima University, Tokyo University of Foreign Studies, Shinshu University, Osaka University, or Kobe University are eligible.(Graduate school students are not eligible.) In addition, undergraduate (or equivalent) exchange students (Special Auditing Students) may be eligible depending on the university's policies. Please inquire at your home university if you are interested.
Class Capacity
Some classes have enrollment limits. If the number of applicants for a class exceeds its limit, the host university will screen applicants. Please understand that you may not be able to take your desired classes.
Application to Enroll in ICL Classes (How to Apply)
Please follow the instructions below if you wish to enroll in ICL classes.
Confirm whether or not there is an internal application procedure at your home university and follow the university's instructions to complete your application.
Enter all required items on the ICL application form.
The host university will decide, based on the application form, whether or not you can enroll in the class.
You will be informed by your home university whether or not you can take the class.
Follow the host university's instructions to enroll in the ICL class.
Application Period
ICL class application deadline will be as follows for the first term.
September 1 Friday (noon), 2023
Notes on Applications
Please read the following carefully before applying.
Check with your home university in advance and follow their instructions regarding any necessary procedures.
Check the syllabus of your desired class to make sure you fulfill any prerequisites (e.g. English language ability).
Class times vary among the host universities. You will not be permitted to enroll in a class if it conflicts with other classes. Check to make sure that your desired ICL class does not conflict with any classes you are taking at your home university. Check your home university's regulations to ensure you do not exceed its maximum credit limit.
Enrollment Status
If you are permitted to enroll in the class, your status at the host university will be Special Auditing Student.
Grades and Credit Approval
Grades for ICL classes will be determined by the host university. Please ask your home university how to get credits approved for ICL classes.
Tuition Fee Etc.
Tuition, entrance, and examination fees will not be collected for ICL classes. Please see the relevant class's syllabus to see whether it requires any training/materials fees.
Attending Classes
Generally, ICL classes will be held online, so you will need a computer and Internet connection to attend.
Start of Class, Canceling Enrollment
The starting date for ICL classes at each host university for 2nd term is shown in the table below. As a rule, once you are granted permission to enroll in an ICL class you cannot later cancel your enrollment. Before applying, please plan your class schedule carefully. If you must cancel a class for unavoidable reasons, please contact your home university using the information provided in "Inqueries" by the cancellation deadlines shown below. Please note that the cancellation deadline varies depending on the host university.
Host University

Start of 2nd Term

Cancellation Deadline
(submit to home university)
Tohoku University
October 2, 2023
October 6, 2023
Fukushima University
October 2, 2023
October 13, 2023
Tokyo University of Foreign Studies
October 2, 2023
October 13, 2023
Shinshu University
September 25, 2023
October 9, 2023
Osaka University
 October 2, 2023
October 10, 2023
Kobe University
October 2, 2023
October 9, 2023
Example
A Fukushima University student wants to cancel a class at Tohoku University.The student must contact Fukushima University using the information provided in "Inqueries" (International Center) by October 6, 2023. The student cannot cancel the Tohoku University class on/after October 6.
Excused Absences
Students will follow the host university's rules on getting absences excused.
Inqueries
Please use the contact information below for inquiries about this project and ICL class enrollment.
University, Department

Email Address

Tohoku University
Student Exchange Division, ICL Project Office
icl-admin@grp.tohoku.ac.jp
Fukushima University
International Center
ryugaku@adb.fukushima-u.ac.jp
Tokyo University of Foreign Studies
Educational Affairs Department, Educational Affairs Division
kyoumu-kakari@tufs.ac.jp
Shinshu University
Center for Global Education and Collaboration
icl-shinshu@shinshu-u.ac.jp
Osaka University
International Student Affairs Division, Department of International Affairs
icl-osaka@ml.office.osaka-u.ac.jp
Kobe University
Students Affairs Department, International Exchange Division
stdnt-ryulife@office.kobe-u.ac.jp
2023 Academic Year ICL Classes
For class details and syllabuses for the 2023 academic year, please visit the "Registration" page on this website.
Flyer