Event Reports
Origami and Sugoroku: ICL Extracurricular Event Report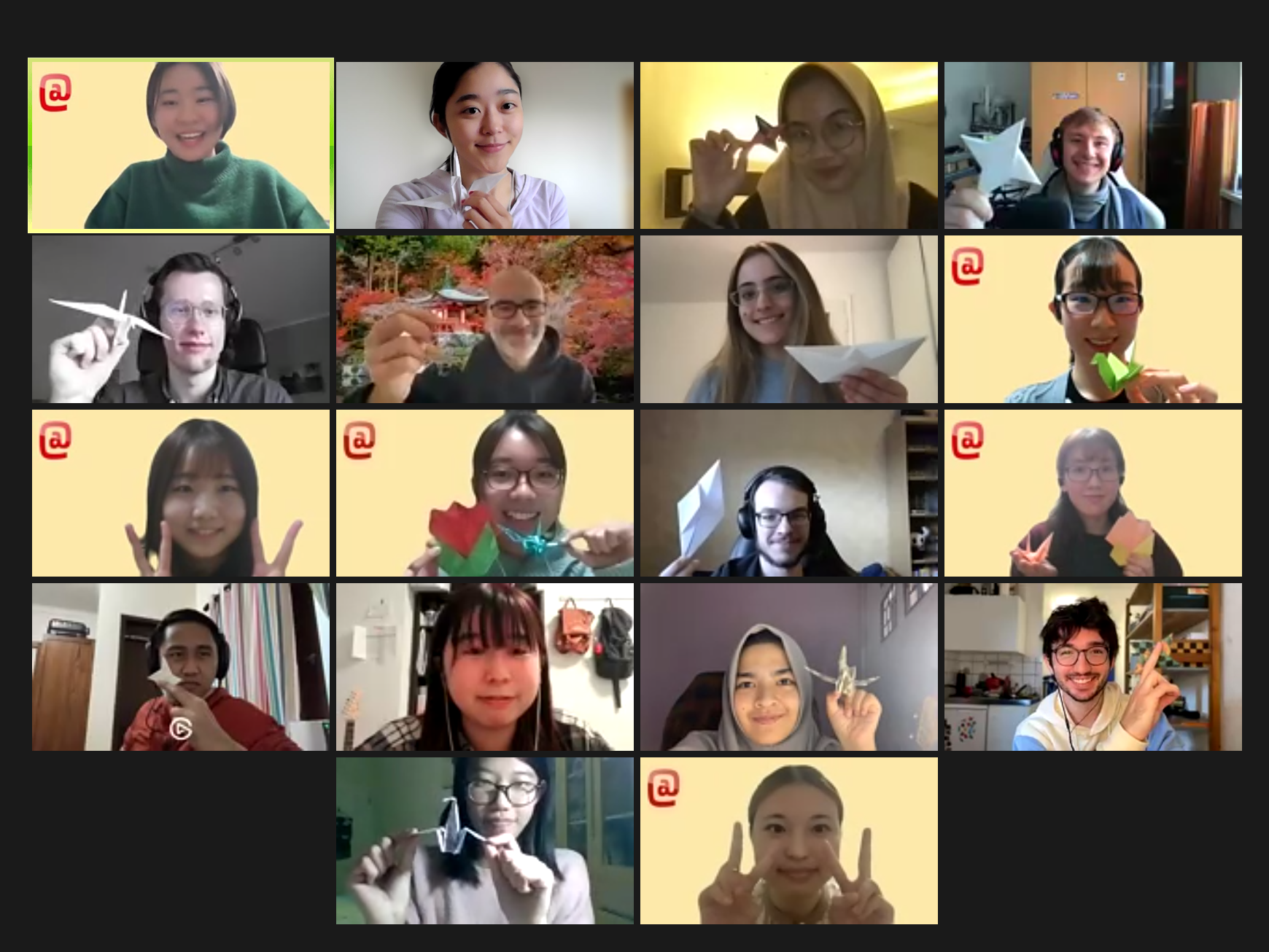 Writer: Misai Shoji (Fourth-year undergraduate at the School of Economics, an ICL supporter)
Translators: Mio Kobayashi (ICL administrative staff), Walt Wyman
An ICL event hosted by the international exchange support group, @home, took place in November 2021. At this event, both home and international students experienced the Japanese traditions of origami and sugoroku together. If you've ever wondered how to teach folding origami in English or play sugoroku online, this article is for you! Also, I will show you what ICL in the pandemic looks like.
Making Teams
We made a few teams of 1 to 2 home and international students and had the members introduced themselves in their teams. In this session, a couple of students from TUJP (Tohoku University Japanese Program), which is an online short-term Japanese program, joined us. Now that we have frequent online meetings in the pandemic, icebreakers are becoming more crucial. The international students in the team talked about their majors and university life in the pandemic. There were a few TUJP students who introduced themselves, using some Japanese phrases they had just learnt in the program. The event started in a relaxed manner with students talking in both Japanese and English.
Learning Origami Online
The first session was about origami. With some origami paper in hand, we picked a couple of shapes such as cranes, throwing stars, and aeroplanes to fold! There were quite a lot of international students who tackled the challenging crane shape which turned out to be the most popular. A staff from @home joined each group to assist the students by using two cameras, a normal one and a close-up one that showed their hands and paper clearly, together with a couple of slides that explained the process. Unlike a conventional face-to-face workshop, we were unable to show each other our processes and compare them. We, therefore, decided to show one another where we were at every step to make sure that no one was behind. As a result, all of us were able to complete the process in time! Please check out the result in the photo above!
What Sugoroku Taught Us
The second session was about sugoroku. Before the class, I wondered how we'd play sugoroku online. It turned out that the staff from @home shared an online roulette instead of dice on the screen to play the game. The sugoroku board had a number on each square. Players needed to answer a question corresponding to the number their pawn was on. Some of the questions were as follows: "What is your favourite month?", "What is your favourite season?", "Which sweets in your country do you like most?", "What do you recommend in your country?", and "What are the stereotypical ideas people have about your country?" There were a couple of students who were preparing to study abroad and some who had studied overseas. They all shared their experiences and questions to make the game even more exciting.
What We Learned
Even though the situation seems to be getting better, it is still quite challenging to study and travel abroad because of the pandemic. We found that both home and international students were feeling frustrated and anxious about their prospects, wondering when they could study abroad, and interact with international students face-to-face. We believe that online sessions such as this are useful for students to make connections, take actions, and seek options to have meaningful interactions in these difficult times. It was good to know that you could create something together even if you were physically miles away from each other. Moreover, the sense of unity and satisfaction at our achievements were so strong, we felt like we were sitting around one table by the end of the session. I was pleased to know that the students had great interest in Japan and our culture. By teaching about our culture, we re-educate ourselves too. I felt like I was not only learning about the others but about myself as well. I would like to join events like this to challenge myself and learn new things.
[1] Sugoroku is a Japanese board game, similar to the game "chutes and ladders" or pachisi.